Expert Advice: How to clean your Backsplash Tile
Kitchen backsplash tile is both for function and fashion. Backsplash tile come in all colors and designs to fit all kitchens from antique and whimsical to sleek and modern, but they also serve an important purpose in making sure that dishwater, steam, and your cooking don't completely ruin the walls when things inevitably splatter. Things like grease from cooking bacon especially make a mess, and you won't always have the time to wipe it down as you go. Backsplash tiles can be marble, glass, ceramic, or even thick and puffy acrylic on adhesive meant to simulate tile, plus a multitude of other materials. Here's what you need to know about tile cleaning so that your backsplash will keep your kitchen looking fantastic for years to come.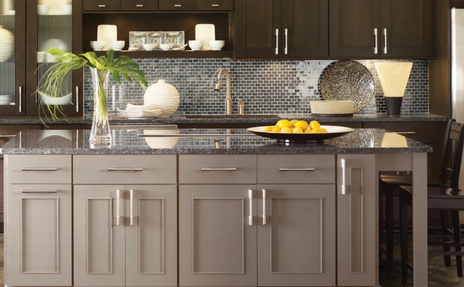 1. Select a material that's easy to clean
The higher the gloss, the easier tile cleaning will be because it just comes right off with simple household cleaners or soap and water. Ceramic tile is one of the easiest materials to clean while marble is much harder to maintain and requires more intensive long-term care. Sheet glass that has no grout lines is also very easy to clean but not as tough as ceramic. Mosaics and subway tiles look beautiful, but they don't clean as easily as ceramic and glass.
2. Minimize grout lines
Small tiles may look chic, but grout lines can be difficult to clean. If you opt for larger tiles, there are fewer grout lines to get dirty. Tile cleaning is easier than grout cleaning, though scrubbing the grout lines with a toothbrush and a mixture of vinegar and hot water can help clean the grout, so the grime doesn't persist.
3. Water, baking soda, and vinegar can battle grease stains on your backsplash
Grease is the most persistent and hard to clean stain you'll encounter. Mixing one part water and one part baking soda and spreading the paste on your backsplash then leaving it on for five minutes can help degrease your tiles. After the paste has been wiped clean, mix warm water with a little white vinegar in a spray bottle then spritz the tiles, wiping them clean.
Learn more at Newport Floor Covering, Inc in Costa Mesa.