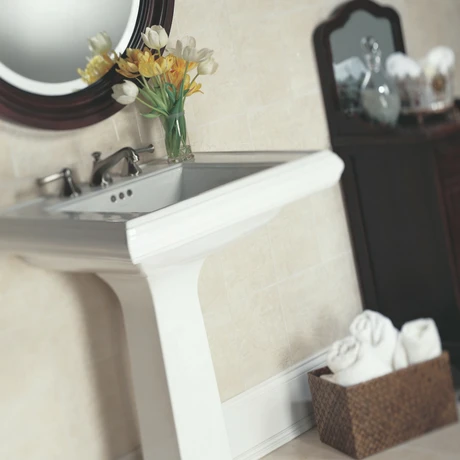 Selecting the perfect floors for your home can be an overwhelming mission. With a variety of options from which to choose, it is important to understand the benefits of each type before making a decision. Ceramic tile is available in a wide range of sizes, colors, styles, textures and patterns to add to your unique home design and décor. If you are determining whether or not to use ceramic tile, consider these advantages they have to offer:
• Environmentally Friendly: Ceramic tile contains natural ingredients that lessen your exposure to harmful chemicals. If you are seeking a toxic-free home environment, ceramic tile is an excellent choice.
• Static-Free: Ceramic tile does not build up an electric charge when you walk which lessens your risk of shocking yourself, your family or your pets.
• Durable: Ceramic tile withstands years of use and continues to look new. Plus, they do not burn or stain if a cigarette, wine, juice or mud gets on them. You cannot easily crack or scratch ceramic tile, so you are free to select a variety of furniture to place on top of the tiles.
• Health Improving: If you or a family member suffers from allergies or asthma, ceramic tile is a helpful solution. The surface is easy to clean, and you remove most of allergens and germs since these cannot fit into the dense material of the tile.
The benefits of choosing ceramic tile for your floor extend into their maintenance. They are easy to care for, and you can use non-toxic, environmentally friendly cleaning solutions on them. Sweeping and vacuuming are enough to remove hair, dirt, and dust. The grout between the tiles is rapidly refreshed using natural ingredients as well. Your floors will continue to look new for many years if you properly install and maintain them.