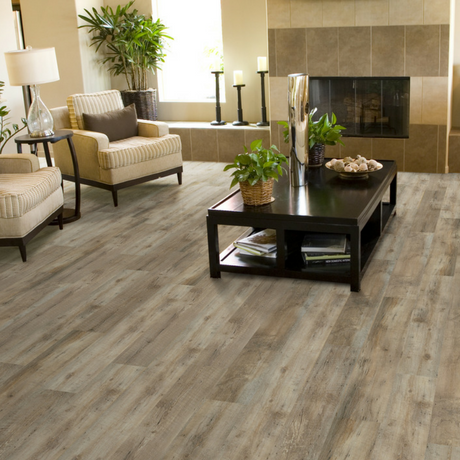 The weather in California is an interesting mix of temperatures. It goes from a hot, desert like climate to subartic temperatures, depending on how close you are to the coast. This combination is a concern for homeowners that are considering starting a floor renovation project and are looking for an alternative that withstands the weather, is easy to clean and looks incredible.If you are in the research phase of your project, it's time to explore a new flooring trend that is gaining popularity in California. Luxury Vinyl Tile (LVT), available in both tile and plank form, offers customers the best of both worlds: reasonable pricing (when compared to other materials) and amazing looks. Luxury Vinyl Tile is an excellent flooring choice for areas prone to moisture due to its minimal expansion and contraction. Another great attribute is that it is a water-resistant flooring material.
If you love the natural beauty of hardwood but want something that will hold up to your active household, you will be happy to hear that LVT looks a lot like real hardwood, is very durable and requires little maintenance. Cleaning your floors with a quick damp mop will be enough to get it cleaned to have your floor looking as good as new.
The Invincible LVT Collection
If you are already convinced that LVT is a top contender on your list, Invincible Luxury Vinyl Tile Collection (Invincible LVT) is an option you should discuss with your Newport Floor Covering Expert. The Invincible brand is Carpet One Floor & Home line of high-performance hard surface flooring. This is one of the most durable and easy to install vinyl floors ever created. Their unique click system, beautiful visuals, comfort and quiet underfoot are significant benefits that make them an excellent choice. All Invincible brand products offer Titanium level warranties. Invincible LVT can be installed over most substrates and existing floors with little prep work.
What Makes Invincible Different?
Invincible Intensity Surface Shield: Provides added toughness, water-resistance for a floor that will stay looking newer longer than other vinyl floors.Protective Wear Layer: Textured for a realistic feel underfoot.
High Definition Visual: A 4-dimensional natural patterned image that depicts accurate colors and details of the surface. This technology adds the touch of natural realism.
Intelligent Support System: The core of the vinyl floor is flexible and adaptable to any environmental conditions giving her 100% assurance that her floor will not gap or buckle. MoistureLoc Watertight Seal: This four-sided, waterproof joint that is warranted not to loosen or separate even under tension.
We also have Invincible H2O, an exclusive waterproof flooring option.
Visit our store today for more information on LVT, installation process and costs.